Good morning. It's decision day for the European Central Bank, the German government agreed on more stimulus, and the equity rally took a breather. Here's what's moving markets.
ECB Boost Expected
The European Central Bank announces its latest policy decision today, and anything less than a widely anticipated increase to the pandemic emergency purchase program could trigger a market shock reminiscent of the one in March when President Christine Lagarde inadvertently suggested that she might not act to calm peripheral bond markets. An overwhelming majority in a Bloomberg survey conducted last week expect the Governing Council to top up the asset program by 500 billion euros. The ECB has so far spent less than a third of its current 750 billion-euro ($840 billion) program. Here's a decision day guide.
Germany Stimulus Surprise
German Chancellor Angela Merkel's coalition agreed on a sweeping 130 billion-euro ($146 billion) stimulus package designed to spur short-term consumer spending and get businesses investing again in a plan that
exceeded the top end of expectations by 30%. Alongside an immediate jolt by a temporary reduction in the value-added tax, Germany allocated money to build out its 5G data networks, improve railways and double incentives for electric vehicles. However, in one of the most contentious issues in the talks, the auto industry fell short of its goal of getting direct government support for purchases of conventional cars.
U.K. Banks Back Beijing
The two British institutions that dominate Hong Kong's banking system backed Beijing in the standoff over a proposed new security law, wading into the political minefield of the former colony's future. HSBC Holdings Plc and Standard Chartererd Plc on Wednesday endorsed a Chinese plan that critics say will diminish freedom, with one academic commenting that "they have to to protect their business, which doesn't make it right." The U.K. government, meanwhile, is on a collision course with China over Hong Kong and is also taking steps to exclude Huawei Technologies Co. from its fifth-generation mobile networks.
Stocks Rally Pauses
The global stock rally powered by optimism for a speedy economic recovery from the pandemic is taking a pause. European futures show minor losses and U.S. equity futures slipped after the S&P 500 Index rose to a three-month high. U.S.-China trading relations are once again in the spotlight, with the latest news being that the Trump administration has suspended passenger flights to the U.S. by Chinese airlines. Some of the most vocal equity optimists are becoming skeptical and a lot of the things stock investors were thought to cherish have been in short supply. Elsewhere, oil retreated as OPEC+ unity was threatened by a long-running feud over complying with production cutbacks.
Coming Up…
We'll get a weekly U.S. jobless claims report ahead of Friday's nonfarm payrolls update, with some economists warning that the pandemic's impact in the labor market isn't finished yet, threatening a second wave of job cuts. In earnings, French liquor-maker Remy Cointreau SA forecast first quarter sales down 45% amid bar and restaurant closures. Finally, keep an eye on U.K. stocks including airline EasyJet Plc and B&Q home-improvement store owner Kingfisher Plc after FTSE index changes were confirmed.
What We've Been Reading
This is what's caught our eye over the past 24 hours.
And finally, here's what Cormac Mullen is interested in this morning
The euro is on a roll but bulls should probably take a moment to temper their ardour. With trader focus firmly on European monetary policy Thursday, a lot of positive news is already priced in. The common currency strengthened for seven straight sessions against the dollar through Wednesday, its longest streak of gains since 2013, and is up over 4% from late April. That has pushed its relative strength index — a gauge of momentum — into overbought territory. Most economists expect the European Central Bank to increase its 750 billion-euro Pandemic Emergency Purchase Program and extend it beyond the end of this year. That's a lot of euros and one could make the case it should be currency negative — at least in the long run. Still, investors seem to be trading off improving sentiment toward the euro-zone, and that's where the risk is after such a decent euro rally. An in-line ECB response could lead to profit taking, while a weaker-than-expected stimulus boost could have a similar effect. If the extra stimulus surprises on the upside, that could reignite talk about QE putting pressure on the currency or questions over what the ECB sees that traders don't. And on the other side of the equation, the dollar has been in freefall, and could be due some bottom fishers of its own which would push other currencies lower. It's a day for euro bulls to tread carefully.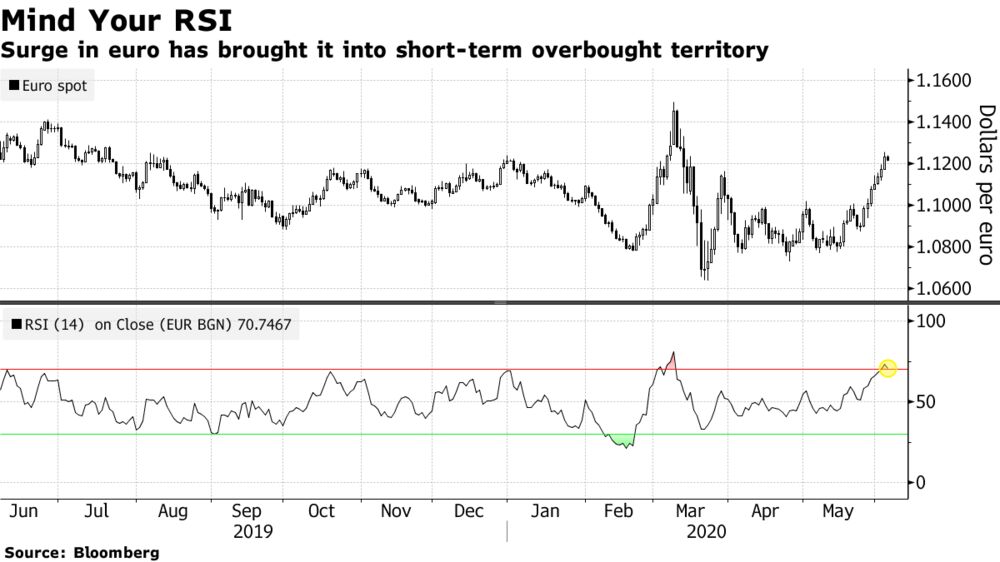 Cormac Mullen is a Cross-Asset reporter and editor for Bloomberg News in Tokyo.