How to build a mining rig in 2021?
In this guide, we will show you how to build your first mining rig and what are some general recommendations to follow when building the rig for the first time.
Introduction to building your first mining rig
What is a mining rig?
A mining rig is basically a computer with extra graphics cards (or GPUs). A mining rig does not have a standard PC case since there is not enough room to fit that many GPUs in it. Standard PC chassis tend to cause overheating, thus thermal throttling GPUs.
Using multiple GPUs with one motherboard, processor, disk, and memory allows us to save money that we can invest in the extra GPUs.
How much computer knowledge do I need to build a mining rig?
Not much. If you have a basic understanding of how to build a PC, then you will have no problems building a mining rig.
Building a mining rig is quite similar to building a PC gaming or office rig.
The only difference is the amount of GPUs. You need to raise them above the motherboard with PCI-e USB risers.
What components to use for a mining rig?
What GPU for a mining rig?
The GPUs are the most important part of the mining rig because GPUs are the ones generating profit.
When deciding what GPU to buy you should pay attention to 3 key things:
How much does it cost?
How much profit per day or month does it generate?
How much electricity does it use?
You should buy the GPU that has the fastest ROI (return on investment).
ROI is calculated by GPU purchase price / net daily profit. For example, if the GPU purchase price is $200 USD and daily income is $2 USD (with electricity expenses already factored in) this means that the ROI is 100 days.
We suggest the following GPUs for a mining rig:
NVIDIA RTX 3060 Ti
NVIDIA RTX 3080
NVIDIA RTX 2060
AMD RX 5700 XT
AMD RX 5700
AMD RX 580 8GB
AMD RX 570 8GB
Note that other GPU models are good for mining too, the above list is just a few of the GPUs that we would consider building a mining rig with. Also, note that some older models might not be available anymore.
Which USB PCI-e risers to buy for a mining rig?
PCI-e risers are important for a mining rig. They allow rising the GPU away from the motherboard. This means we can spread it further away from the next GPU thus increasing airflow and better cooling.
PCI-e risers used for mining are normally cheaper (can be even 10x cheaper) than the ones used for PC gaming systems. This also means that the riser might fail sooner. We suggest getting a few extra risers (two or three) for a backup.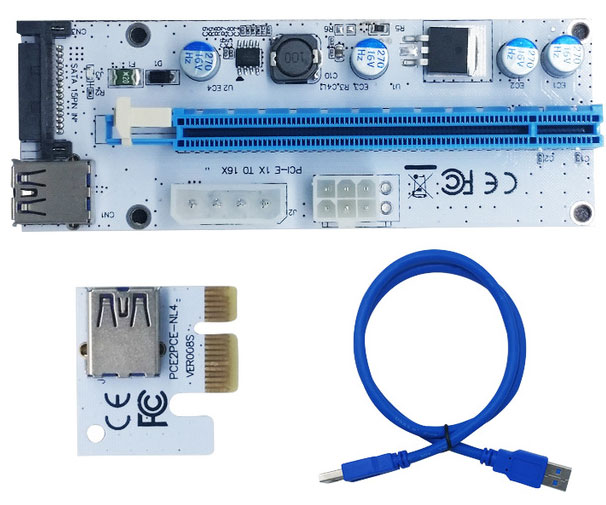 What CPU for a mining rig?
When building a mining rig, you can always cut down expenses by picking not-so-good performing components. CPU is one of them.
If your intention is to not mine with a CPU, then you can pick whatever low-end CPU. GPU performance is not affected by CPU performance.
If you wish to mine with a CPU, then you need to pick a good performing CPU. AMD Ryzen CPUs are known to have a good performance when mining compared to Intel CPUs where the hashrates are significantly lower.
Good AMD Ryzen processor-based on price/performance for a mining rig would be:
AMD Ryzen 7 3700X
AMD Ryzen 9 5900X
Other Ryzen CPUs (depends on the price you can get them)
What motherboard for a mining rig?
There are a couple of variables and you should be careful about when picking the right motherboard:
Processor socket type.
Amount of GPUs you intend to use.
Intel and AMD use different CPU sockets. Intel's latest socket is LGA 1200 while AMD's latest socket is AM4. Be careful to pick the correct motherboard that will suit your CPU.
Another thing to be careful about is the amount of PCI-e x16 and PCI-e x1 connectors that the GPU supports.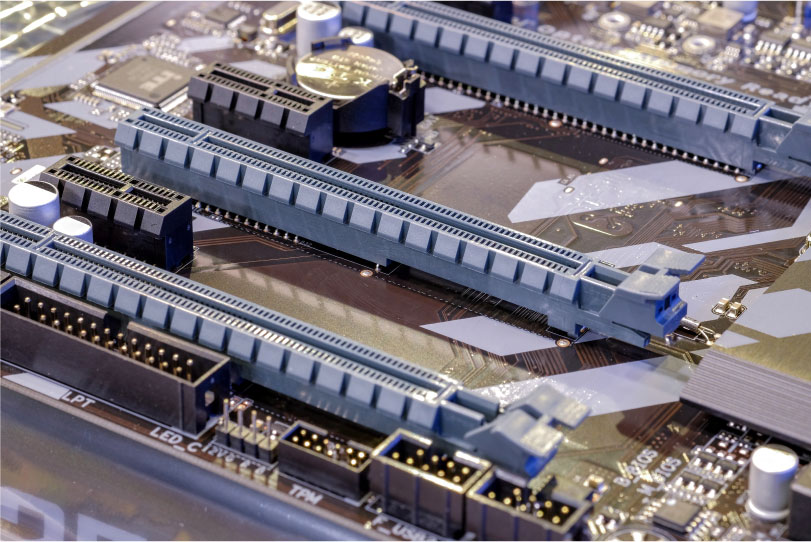 PCI-e connectors are slots on the motherboard where you plug your GPU in. GPU is normally plugged into the motherboard via the PCI-e x16 connector (the long one). But in mining rigs, we tend to use PCI-e x1 USB risers which can be used to connect more GPUs to a single motherboard.
If you cannot find a low-cost motherboard with enough PCI-e slots, you can also use PCI-e splitter cards which splits one PCI-e x1 into 4 PCI-e x1 slots.
It is too complicated to recommend a motherboard without information like the amount of GPUs or a processor model.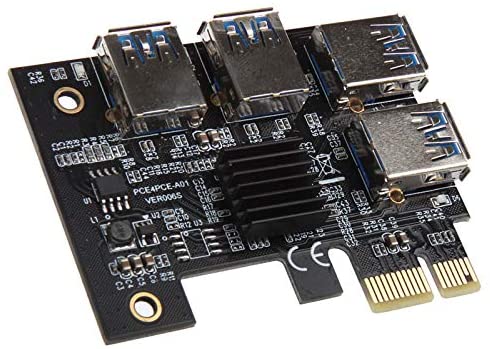 What power supply for a mining rig?
Another important piece of equipment that is dependent on the previous components picked. It mostly depends on the amount and type of the GPUs picked.
First, you need to calculate how much power your whole system will draw.
You can do this by calculating a total GPU(s) power draw (TDP). Then you add 100W for the rest of the system* (motherboard, CPU, RAM, disk) and multiply that with 1.2.
Example: A system that draws 1000W will need at least a 1200W power supply unit. (1000 x 1.2 = 1200)
*If you are using a stronger processor, make sure that you add a power draw of that processor. 100W is intended for a low-end processor.
Secondly, you need to count the number of PCI-e power cable connectors on the GPU.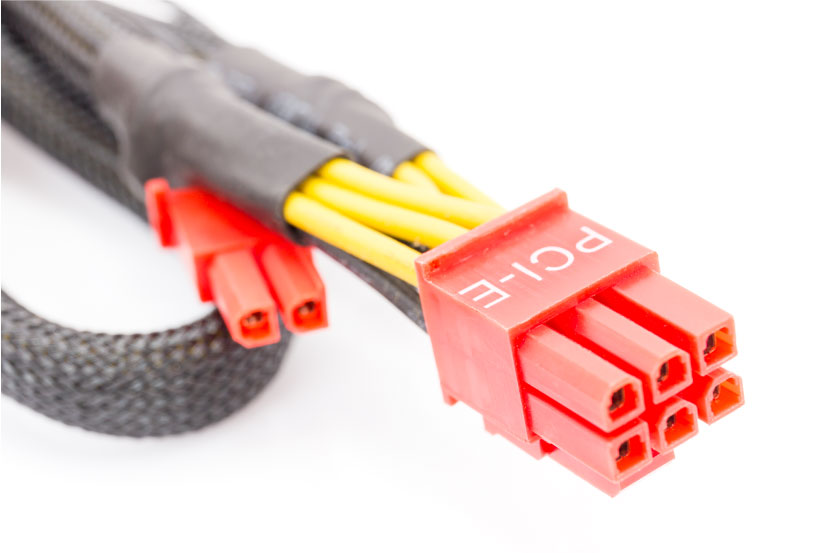 A PSU should have enough PCI-e power connectors to power all GPUs.
If you have issues locating a PSU with enough PCI-e power connectors, then consider buying two or even three PSUs for one rig. You can simply connect them together with 24-pin ATX PSU splitters.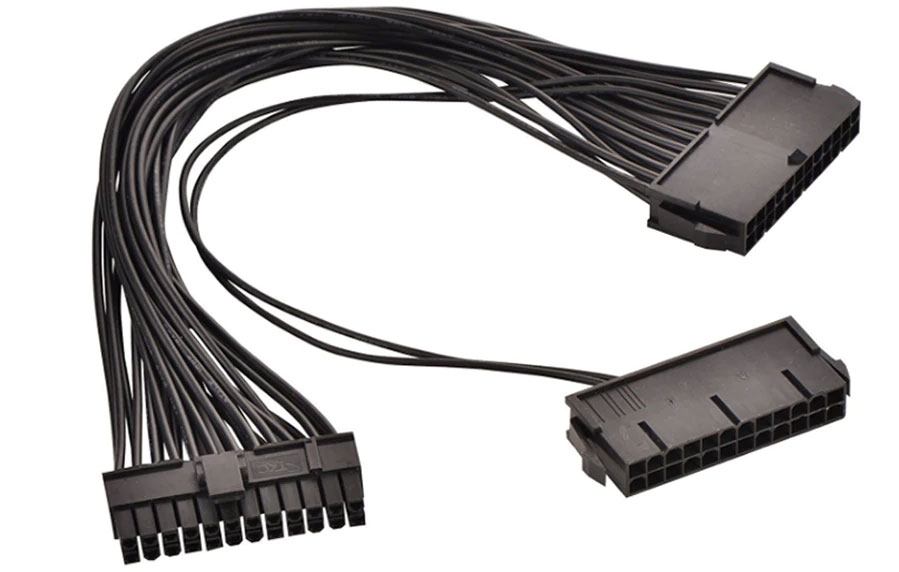 What RAM for a mining rig?
RAM is the least expensive and the least important component for mining. Except if you are going to use AMD Ryzen CPU for mining.
If you are using a low-end CPU or do not intend to use CPU for mining, then any 8GB or even 4GB memory stick will do it. Get the cheapest one you can get.
What frame for a mining rig?
Frame depends on your personal needs and preferences. You can build one yourself or you can buy a prebuilt (more expensive) mining frame.
We recommend DimasTech X-Hash mining rig for 10 graphics cards of something equivalent.
What hard drive for a mining rig?
Another piece of equipment that depends on your personal preference. If you are planning to use Windows 10, any SSD or HDD will suffice. SSD 120GB disks are quite cheap now. We recommend using a 120GB SSD.
If you are planning to use a Linux-based OS, then we suggest using at least a 16GB USB flash drive (8GB or even 4GB works fine with NHOS).
Note that you can use HDD/SDD for Linux-based systems too.